Hyundai IONIQ Hybrid
Hyundai Elantra Hybrid
Hyundai Sonata Hybrid
Spend Less Time Pumping Gas with the Hyundai IONIQ, Sonata and Elantra Hybrids
One of the few costs that go into the car-buying process that some drivers forget is the amount of gas you'll need over the years. With the available hybrid lineup from Hyundai, you can find an experience that can avoid spending time pumping gas and more time enjoying the daily drive. Some models even offer an all-electric engine, so you can avoid the cost of gas completely! Here at Ron Carter Hyundai, we're happy to help you explore models like the Hyundai Ioniq and Hyundai Sonata and Hyundai Elantra Hybrids. Read on and you'll find out what you can expect with each model, so you can pick out the sedan that suits your lifestyle the best!
---
Hyundai Ioniq Hybrid
With the new Hyundai Ioniq, there's a lot to explore. Starting the journey underneath the hood, the Ioniq gives you three different engine options to choose from: a hybrid, a plug-in hybrid, and an electric power train. If you're looking to limit your carbon footprint, the electric engine is a stellar way to do so. Beginning with the 2020 model year, a powertrain update that increases horsepower output to 134, and it offers a larger battery pack that is estimated to improve your driving range up to 170 miles on one charge! The 7.2-kW charger also shortens your recharge time, so you can get going sooner than you would before.
The hybrid and plug-in hybrid engines are also efficient, offering you an experience tailored for more time on the road and away from the gas pump. Each offers 139 horsepower of combined gas-electric power, and they both can be charged with ease from the comfort of your garage.
Each of the powertrain options comes in a variety of trim levels, with loads of amenities that provide you with all the comfort and convenience you'll need. The new vehicle received a sleek new exterior and cozy interior for a revamped look that will draw the attention of other drivers. The standard infotainment setup is now an eight-inch screen with access to Apple CarPlay™ and Android Auto™ integration. The Hyundai SmartSense driver assistance system is now standard on all Ioniq models, and it includes features like forward-collision avoidance, automatic high beams, and a lane-keeping assist. There's a lot to explore with the new Hyundai Ioniq.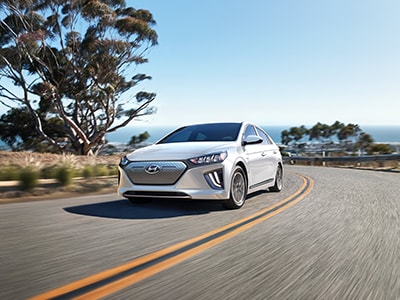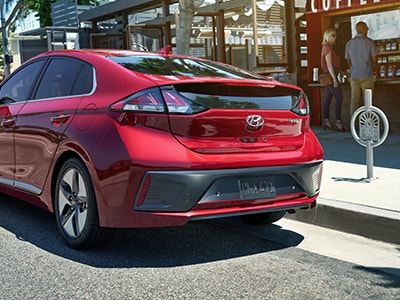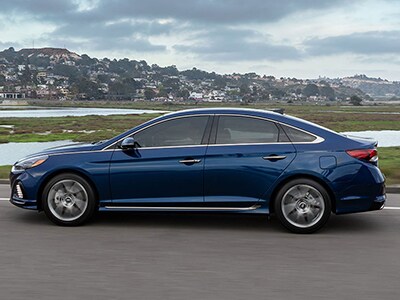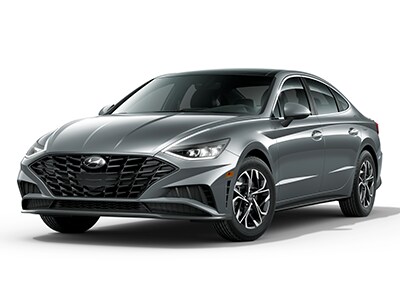 Hyundai Sonata Hybrid
When it comes to style, grace, and luxury, the Hyundai Sonata lineup is long known for ensuring a daily drive that can't be beaten. Combined with a hybrid engine setup, the Sonata offers more than just a cozy experience. Its 2.0-liter engine delivers a combined gas/electric-powered maximum of 193 horsepower, and it utilizes Hyundai's Active Shift Control, which uses the electric motor to better align the speeds of the engine and transmission by reducing shift times by up to 30 percent.
When you choose the Hyundai Sonata Hybrid as your preferred sedan, you can expect estimated mileage numbers to hit 40/46 mpg city/highway. Drivers who would rather get behind the wheel of the Hyundai Sonata Plug-in Hybrid model can expect a 28-mile all electric range with an estimated 600-mile total driving range when combined with gas-power. Either option will help you go further on one tank of gas!
The Sonata lineup is offered with both a hybrid and plug-in hybrid lineup, which isn't new for this model year and a large solar panel roof, which is. It stretches from the top of the windshield to the top of the rear window, and it's estimated to provide up to six hours of daily charging for the battery and help increase your travel distance.
The lineup returns with many of the same interior and exterior features that make the lineup an impressive sedan option. Comfy interior seating for five offers amenities like heated front seats and leather seating surfaces, and with a standard seven-inch touchscreen infotainment system alongside smartphone integration and an available Infinity® premium audio system, you'll enjoy every trip. Driver assistance features are available to the lineup to ensure you have an eye on the roads around you at all times with the Blind Spot Detection with Rear Cross-Traffic Alert and Lane-Change Alert.
---
Want to learn more about the available hybrid options from Hyundai? Swing by Ron Carter Hyundai, and we'll help fill you in on the benefits of driving a hybrid, plug-in hybrid, or electric model! We can't wait to help you find the perfect model with a loan or lease plan that works with your budget! Give us a call today to schedule an appointment!